Im März 2019: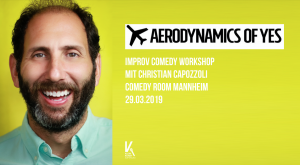 Workshop mit Christian Capozzoli in Mannheim
Level: Fortgeschrittene Improspieler
Get familiar with Christian Capozzoli's Aerodynamics of Yes techniques of improv. It sets out to create a bedrock foundation for you as a self reliant, team-playing, fun-chasing improviser. This is for new improvisers and those that want a refreshing new slant on the way they play. Create tension, Take action, and explore characterization through wants, and spine and choice. Learn to advance and expand your ideas and weave them into rewarding scenes and narratives, with pronounced games.
Celebrate team play, while boosting your confidence as a solo performer. Agreement and attack are essential to this method. Endorse and cosign each other's moves with immediate attack, be fearless and reactionary. Get on your toes, out of your head!